The Alec Monopoly Miami Collection
Alec Monopoly Art
The Alec Monopoly Miami collection is a one of a kind, must-see art experience. Celebrity street artist Alec Monopoly is known for his striking, graffiti-style art that serves as a tongue-in-cheek interpretation of capitalism and luxury. Alec Monopoly paintings often feature contemporary characters such as Uncle Pennybags and Richie Rich in everyday situations.

Exhibiting playful scenarios juxtaposed against today's "flex culture", Alec Monopoly art is at the forefront of celebrity and popular art culture. In fact, many of Monopoly's most well-known pieces incorporate or pay homage to well-known luxury brands such as Luis Vuitton and Hermes.
Nostalgic Art
While most of Alec Monopoly's collection in Miami features bright and neon-colored paintings, there are several pieces that have a more muted style. Staying true to his signature use of the above-mentioned characters, some of Monopoly's newer works of art are reminiscent of vintage cartoons and drawings with a color palette that lends a nostalgic feel to modern themes.
Alec Monopoly in Miami
The exclusive Alec Monopoly collection was opened in the Setai Hotel in Miami Beach as a pop-up gallery in 2018. Originally dedicated to exhibiting Monopoly art in honor of 2018's Art Basel week, the Setai Hotel gallery retains a vast collection of rare Alec Monopoly paintings and sculptures that are not available at any other gallery location in the world.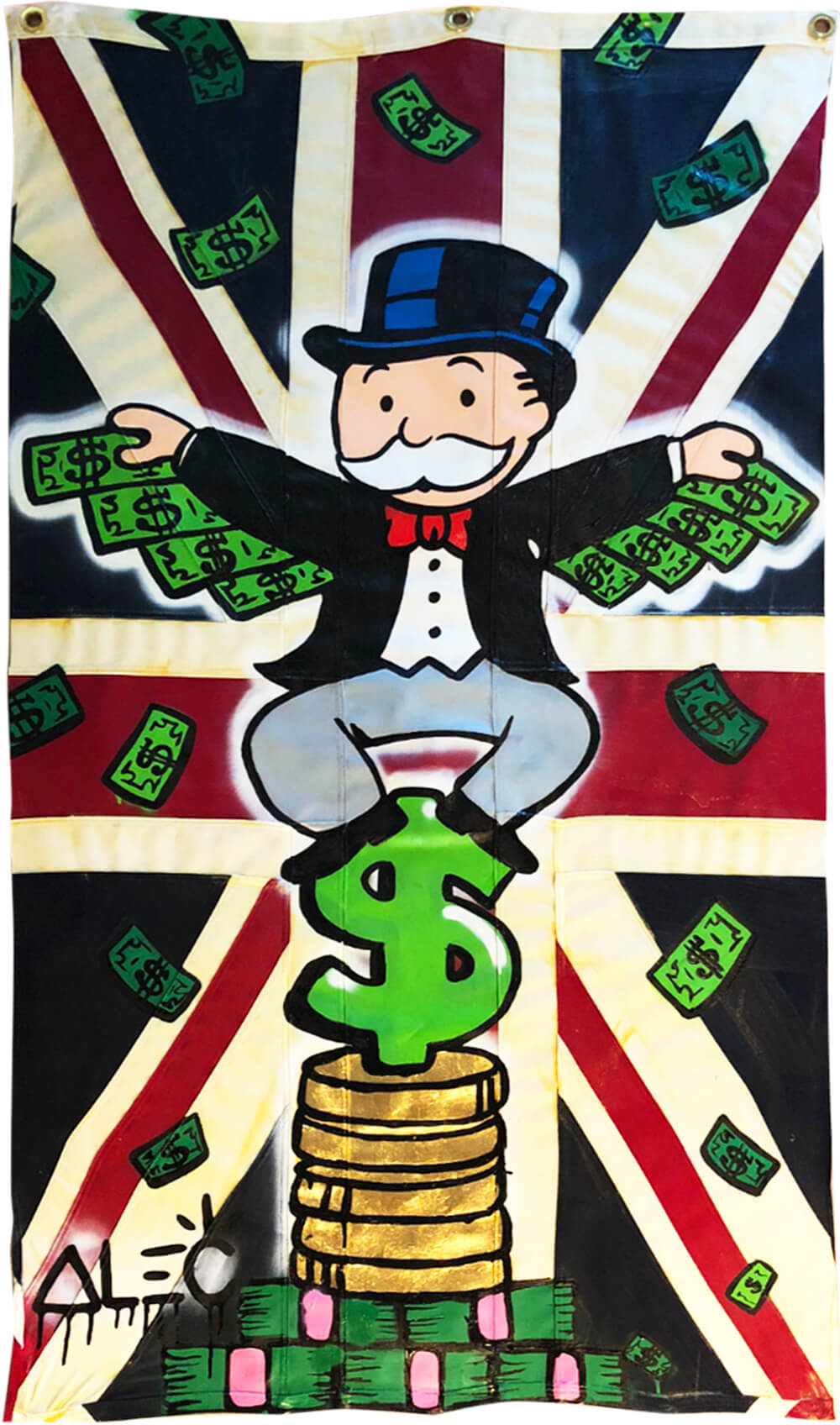 For visitors interested in purchasing one of a kind Alec Monopoly art, the Setai Hotel has become the place to find the best of his latest collection.
A Diverse Assortment
Today, the collection has become a permanent fixture of the Setai Hotel, as well as the Miami art scene. In collaboration with Eden Gallery, the Alec Monopoly collection offers a diverse assortment of Alec Monopoly's most popular works, while at the same time personifying the colorful, art nouveau Miami culture.
Celebrity Art Culture
While Art Basel has brought Miami to the forefront of the contemporary art scene, the Alec Monopoly collection attracts celebrities and art lovers from all over the globe. A vibrant and hub in the center of Miami Beach, Alec Monopoly's Miami gallery is a colorful and unique addition to the international art community.