Calman Shemi Art
Calman Shemi art is unique from anything contemporary art has seen before. Transforming paint into reflective tones on canvas, Shemi's vibrant palette is a rainbow of colors.
With his variety of painting techniques, Shemi has developed a signature style and vision, best illustrated by his collection of 'Notes' artwork. Exploring Calman Shemi art is akin to admiring the hues of a sunset. Within each artwork, it is possible to glimpse visions of the artist's inspiration, whether it be a scenic view or the melodic scales of a beloved jazz tune.

The 3 Techniques
Originally a sculptor, Calman Shemi's art evolved with his development of three distinct painting techniques: soft, lacquer, and window.
Soft Painting
Soft painting refers to the layering process of paint and lacquer, either on metal or canvas. Beginning with large beads of paint, lacquer is then applied directly on top of color, creating a mound of softened paint. The process is repeated, with ample time given in between for layers to dry, until the desired texture and depth of each color striation is acheived.
Window Painting
Perhaps his most creative style of painting, window painting somewhat resembles a shadow box. The creative process begins with painting inside a wooden box, after which point a handmade wooden frame is attached to the box. This unusual technique creates the illusion of looking through a window to a landscape or room. The frame is then gilded with gold or silver leaf and is layered with several coats of lacquer. By creating a contrast between the outer and inner levels, the artwork is given a distinct depth, distinguishing it from traditional surface paintings.
Explore more of Calman Shemi's techniques in his collection here.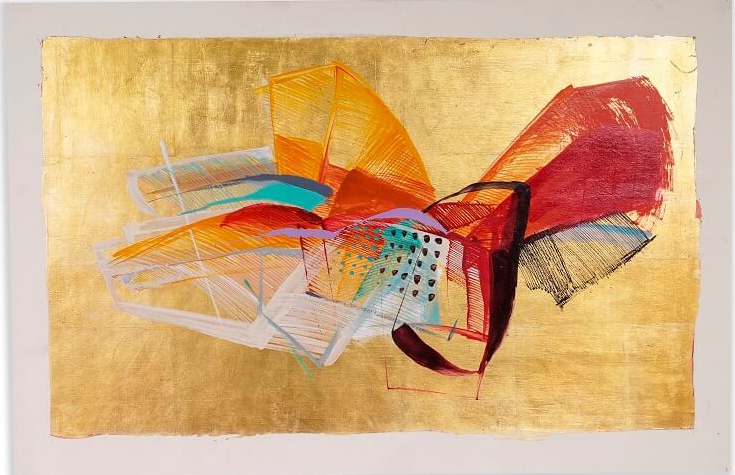 Lacquer
Calman Shemi lacquer paintings are created on a wood or metal panel that has already been brushed with gold or silver leaf. Multiple layers of lacquer are applied to the surface after the painting has dried. In addition to the shine of the lacquer itself, each layer is hand polished to leave the surface gleaming.
The Sounds of Color
Calman Shemi's 'Notes' paintings are impressions of music as a visual work of art. By incorporating every color of the rainbow, each brushstroke serves as its own contribution to a greater story being told.
With Notes created against a backdrop of both silver and gold, the composition can be a visual representation of whatever the viewer most closely relates to. Some may view notes from a golden sunset, others, the dulcet melodies of a favorite tune. Regardless of any differing perspectives, Calman Shemi's vibrant symphony of colors remains poignantly inspiring.
View the paintings up close here.
Calman Shemi Art: Original Collections
For Calman Shemi, finding the creative motivation for his work is something that comes naturally. Influenced by favorite books and films, as well as his own family, he is at home at the forefront of the world of contemporary artists who draw inspiration from everyday life.
His original collection of artwork can be viewed exclusively at Eden Gallery.